louisnardavac
Articles de louisnardavac
Par louisnardavac Le 17/05/2020
A car had been reported being struck by a train at Adhwyrda level crossing earlier on the evening. It has been confirmed that the train involved is I2V service 4217 from Floeta to Sadykarek. The incident happened around 7:08 PM. For the moment, we know that, according to the driver's testimony, the car has slalomed to try to run through the level crossing as the barriers were already closed, then stop in the middle of the tracks and started to try to reverse. The I2V was running at 150 kmh (90 mph) but thanks to the quick driver's action, the train then struck the car at a speed of approximately 120 kmh (75 mph). It caused the locomotive to derail but it stays upright. The other coaches have not left the rails.
For the moment, there is a confirmation for 1 pesron severely injured (the driver of the car) and 7 minor injuries, 6 amongst the passengers of the first coach plus the driver of the train. Passengers of the first coach have been evacuated because it has been strongly damaged, but the other passengers will stay in the train and a thunderbird locomotive is being sent to haul back the rest of the train to Radborg. The locomotive suffers from minor damage but a crane will be needed to put it back on the rails. The set involved is D251134,
This event is causing major disruptions on the network between Kaczajkewathea and Radborg. Here are your traffic informations :
- All RPs and VRPs between Kaczajkewathea CS and Radborg are cancelled until tomorrow's morning. RP services from Kaczajkewathea to Radborg are cancelled throughout (the services extended to Xazensvell will run from Radborg to Xazensvell). RP services from Kaczajkewathea to Xazensvell via Czaranah will run only from Rhyl-an-Kaczajkewa to Xazensvell, but on a limited pattern (2 trains only, one at 10 PM and one at 11:30 PM. VRP services between Kaczajkewathea and Xeristoh will run only from Xeristoh to Radborg. VRP services between Sarvatkann-Zaboh and Radborg will be limited to Kaczajkewathea for tonight.
- IP and I2V services won't be cancelled but expect major delays of up to 3h30. It is expected that a single line traffic will slowly begin from 10PM, with traffic resuming to normal for tomorrow at 5AM.
- Rail replacement bus services will be put in place between Kaczajkewathea and Radborg, with 2 buses every 30 minutes from 9:00PM to 11:30 PM. They will call at Hylgwhyd-Kurnadewa, Adhwyrda, Rhyl-an-Kaczajkewa, Nevernah, Rosnah and Radborg. They WON'T call at stations prior to Hylgwhyd-Kurnadewa, which can be reached via RP services to Llwkurnid / Balkansevy.
More informations to come soon.
Par louisnardavac Le 30/04/2020
From Sunday 17 May 2020, RKP Androka will be disolved due to an extremely low profitability as well as bad performance rates (with only 78,6 % of trains being on time for 2019) and low passengers satisfaction (latest surveys were pointing out severe overcrowding, low punctuality, low reliability and ramshackle pieces of rolling stock). Most of RKP Androka's services will be cascaded to RKP East-Sansek, which aims to considerably enhance the existing network and services, in order to improve passengers' experience. RKP East-Sansek has already proved to be one of the most efficient train operating company in the country, perhaps in Europe, by being in the top three of the country's TOCs for fifteen years, in terms of punctuality, passengers satisfaction, value for money and service supply).
A lot of changes will apply to the existing networks. At the beginning, the following RKP Androka services will be cascaded to RKP East-Sansek :
- VRP Stelbrak – Salvjati
- VRP Sahn-Roch – Sahn-Aldreja
- VRP Sahn-Roch – Salvjati
- VRP Sahn-Aldreja – Salvjati
- RP Tarna – Salvjati
- RP Liend – Sahn-Roch – Lasgerew
- RP Liend – Sahn-Roch – Nelenka-an-Sansareka
- RP Nelenka-an-Sansareka – Sahn-Roch – Noweszencse
- RP Nelenka-an-Sansareka – Salvjati
The other existing RKP Androka services will be cascaded to RKP East-Valdmor (RP Sahn-Aldreja – Ugarewskew ; RP Sahn-Aldreja – Alszaracsem) or RKP Hosdregoh (RP Salvjati – Uelfi).
All the rolling stock operating these existing services will be cascaded to RKP East-Sansek. Some of them are already being repainted.
Changes to existing services
From the Sunday 19 July 2020, RKP East-Sansek will also modify some of these services in order to start improving railway experience for passengers. Several changes will already apply at this date :
- VRP services between Sahn-Roch and Sahn-Aldreja will be extended to Tarna Sahn-Veronika to create a direct link between Sahn-Aldreja and Tarna.
- Some VRP services between Floeta and Tarna will be extended to Sahn-Roch via Liend during peak times. This will affect some relief VRPs between the two cities (no services to Stelbrak will be cancelled).
- RP services between Liend, Sahn-Roch and Lasgerew will be extended to Tarna Sahn-Veronika.
- A RP service will be created between Stelbrak and Noweszencse, calling at Stelbrak CS, Stelbrak Sahn-Snezhanka, Dandzeszczenje, Klavanhorod, Nalasdoga-Gyevkar, Edger-ank-Sansek, Luzhanska-Lezhiszjo and Noweszencse. It will run every two hours in relief of the existing Stelbrak – Salvjati VRP in order to create an hourly service from Stelbrak to Noweszencse.
Tarna's VHP network will also be divided in two different lines :
- VHP A will run twice hourly from Kolpenbjel to Sahn-Roch via Tarna-Sahn-Veronika. As the line is not currently totally electrified, DMUs will be used in a first time.
- VHP B will run from Kolpenbjel to Tarna-Sahn-Veronika, with some services extended to Tarna-Voling Airport. It means that the existing four trains an hour between Tarna-Sahn-Veronika and Kolpenbjel will remain during peak times.
The RP Stelbrak – Sahn-Katja (operated by RKP Sland) will also been transfered to RKP East-Sansek on 17 May. This will contribute to a better management of RKP East-Sansek five major hubs (Tarna, Floeta, Stelbrak, Xeristoh and Sahn-Roch/Liend) as the company will operate all regional services using these stations (except VRP services from Stelbrak to Bavarieks).
Future changes
RKP East-Sansek has announced an important number of measures to enhance its services in the future :
- The line from Tarna-Kapara to Sahn-Roch will be reelectrified to allow EMUs to operate all Tarna's VHP lines. It was first intended to be made thanks to overhead live wires, but it won't be possible as the overhauling of Malak tunnel has shrunk it. Therefore, electrification will be made thanks to third rail from Tarna-Kapara. RKP East-Sansek is due to obtain 5 C161/1 from RKP Sland (four class EMUs similar to British Class 319) and will modify them to allow dual-voltage operations. As the electrification has already begun, it is expected to be complete by next November.
- A new station will be constructed between Tarna Sahn-Veronika and Tarna-Kapara, due to be named Tarna MacArthur-Perk. It will be served by the A line of Tarna's VHP. It is due to open next November.
- RKP East-Sansek has also announced that it will operate a new type of services by late 2021 to be named "OS Xpress" that will be halfway between VRP and IP services to connect distant destinations of its network (like Acmarad-ek-Sland to Sahn-Aldreja or Kaczajkewathea to Sahn-Aldreja). The exact service pattern of these new transportation offers is still to defined as they have not to compete with existing IP services (as part of the National Agreement about Railways Operations).
As well as these changes, new rolling stock has been ordered and will enter service gradually in the next months :
- 9 new A384 quadruple-voltage locomotives that will begin operations by mid-October, mostly on Floeta to Sahn-Roch and Xeristoh to Kaczajkewathea VRP.
- 44 new B162 diesel multiple units that will also begin operations by mid-October. This fleet will be divided into 29 B162/2 DMUs formed of 3 coaches and 15 B162/4 DMUs formed of 5 coaches. Mainly intended to operate long distance regional services on non-electrified routes, they will allow within one and a half year the withdrawal of our B123 DMUs by cascading existing B142 and B161 on medium and short distance services. The final B162 are expected to enter service by November 2021.
Par louisnardavac Le 16/05/2019
The RKP East-Sansek has announced that both of its current A382 locomotive are to be withdrawn in next August.
Currently, they are the oldest pieces of rolling stock in passenger operation with RKP East-Sansek, being in service since 1974, 45 years ago. The two A382 locomotives, equivalent to British Rail Class 87 and numbered A382084 and A382085, are the only remainder from the original 18 A382 locomotives in operation for RKP East-Sansek. They were both transferred to East-Sansek network in 1989, after the completing of electrification from Stelbrak to Floeta. Before that, they were used by the Intercity department for Valkanslav – Molnja express services. They began operation on the East-Sansek network with VRP duties, mainly between Floeta, Tarna and Stelbrak. On rare occurences, they were also seen on stopper services, in case of an A381 (Class 86) failure. They were later replaced by A383 (Class 90) on these duties, and were transferred mainly on passenger services on the Stelbrak to Silidann line, although four of them began operations on the Tarna to Xeristoh line. From 2007 to 2011, the RKP East-Sansek withdrew most of its A381 and A382, and only A382084 and A382085 remained in operation, firstly between Stelbrak and Sahn-Kornelja, than on the RP services between Tarna and Gladiorka (since 2018).
Both locos have hit 15 millions of kilometers and have became quite unreliable for a few years. Frequent breakdowns led to disruptions or trains cancellations and the RKP East-Sansek has been getting complains about the situation for at least two years, especially on the Tarna – Gladiorka line.
The last RKP East-Sansek service operated by an A382 will be the 18:12 departure from Tarna to Gladiorka, on Friday the 23rd of August, this year.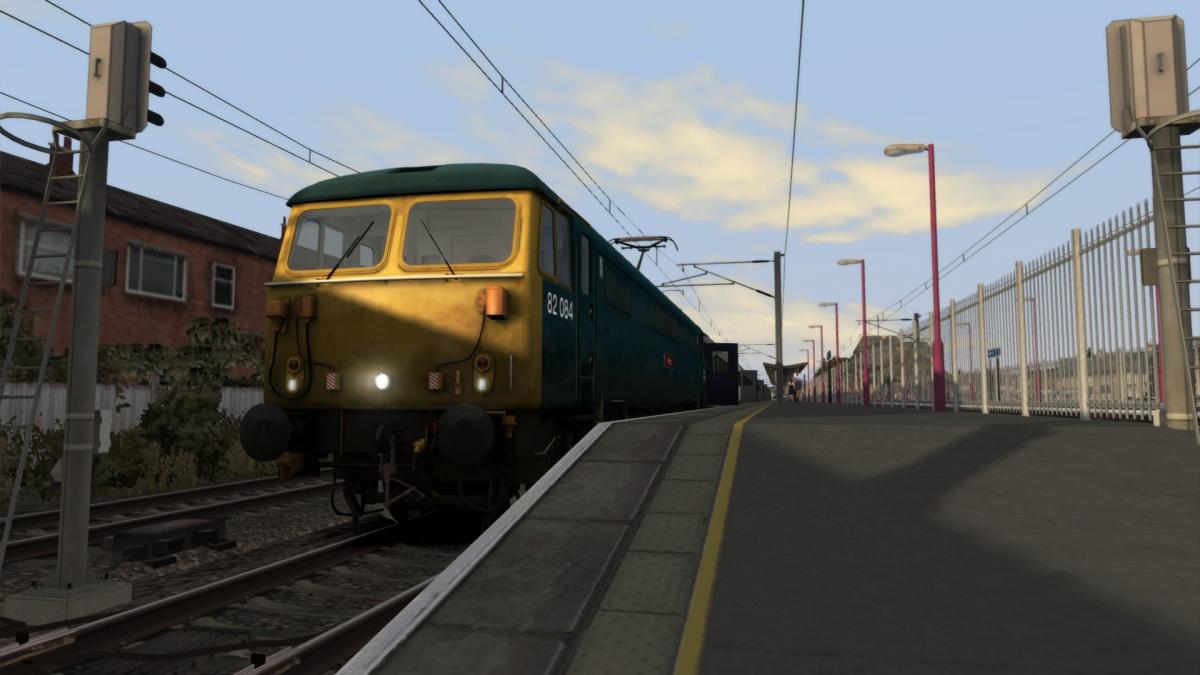 A382084 stopped at Suberept railway station.
What replacement for the A382 ?
As some passengers have also been able to see it, A382 will be replaced by... A163 (Class 68). On Tuesday the 14th of May, the usual A382084 was replaced by A163019 on hire from the Intercity sector. This replacement, made to allow quick maintenance on A382, was also a good test to familiarise drivers with this new stock. Some people have already complained about the fact that diesel locomotives will operate services that are totally under overhead wires, but the RKP East-Sansek has justified this choice due to the lack of electric stock currently available. "All our electric multiple units are already used widely across the network. The most recent of them was received in 2017" has claimed Hejaz Hrenowski, RKP East-Sansek marketing director, " A163 are very recent pieces of rolling stock, very fuel efficient and reliable, they will provide a perfect service for this line". In fact, the whole country is suffering from considerable delays in the delivery of modern electric locomotives. The new A384 (Class 88) where due to be delivered in 2018, but are now delayed to at least 2020...
4 A163 from the Intercity sector will be cascaded to RKP East-Sansek this summer ; they will join the existing 6 A163 of the company. At the same time, 2 more A383 (Class 90) will be delivered to the network, cascaded from the RKP Noberek, to operate VRP duties with the existing DVT used by A382. As a result, new A163 sets will operate in 'top-tail' formation, with the front loco leading the train and providing traction, while the rear one will only provide electric train supply and heating to the passenger coaches.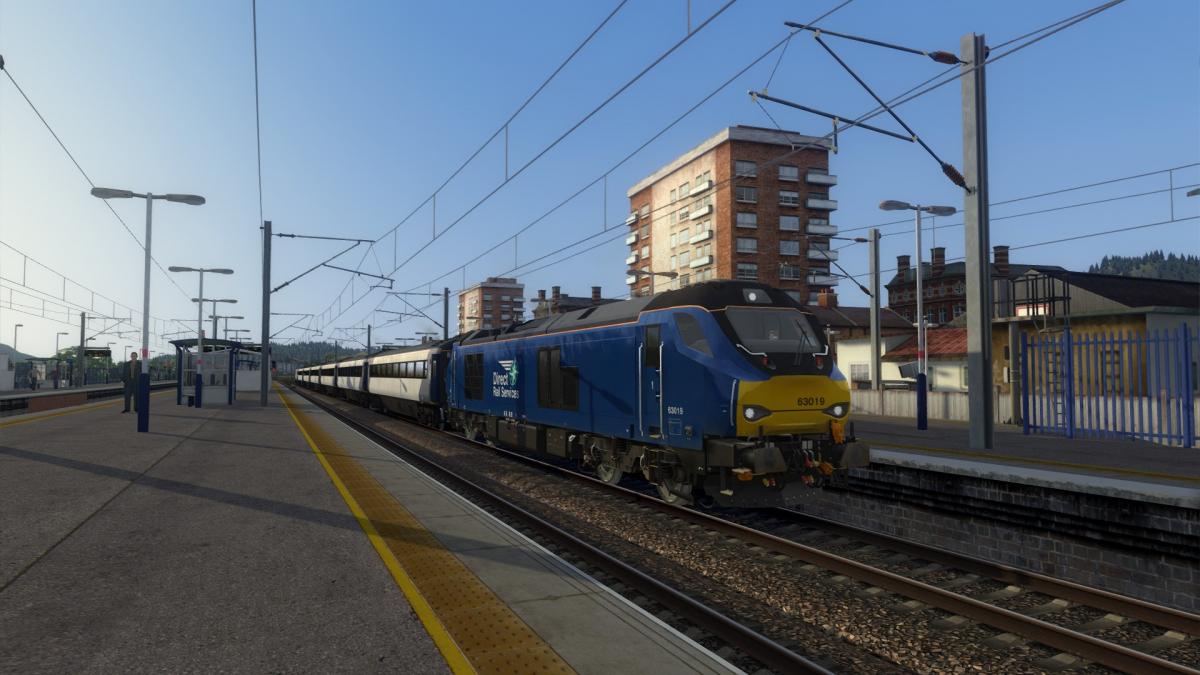 A163019 at Toletha railway station, replacing A382084 during on of its maintenance.
And what will happen for the last two A382 ? They will be stored at Stelbrak, probably for some years, but it is pretty sure that at least one of them will be preserved by an association. The other will be scrapped. There are actually about 86 A382 still in use across the whole country, but most of them are due to be withdrawn by the end of 2021...